Frequently asked questions
I'm enrolled - how do I find my course?

We recommend you bookmark the school site: http://layne-johnson-studio.teachable.com (You can also get here from Layne's art website: laynejohnson.com)
Use your email address that you enrolled in the course with to login.
If you've forgotten your password, there's an option to reset it just below the purple log in button. (You'll then receive an email to reset your password.)
Once you're logged in, click 'My Courses' on the top navigation to view all courses you're enrolled in.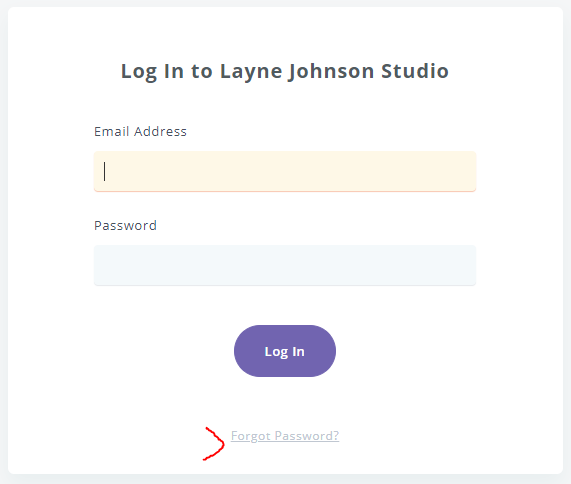 I can't log in! It says my email address is already in use. What's happening?
When you visit the site, you have two options, "Sign Up" or "Login." Sign up is only for new accounts. Look for the "login" option to access your existing account.
I've forgotten my password!
Click the "forgot password" option below the login form to reset your password. (See the image above.) You'll receive an email to reset your password. If you don't see the "forgot password" link, be sure you're on your desktop. Sometimes it's difficult to see on your mobile phone.
I have a gift certificate for a course. How do I enroll?
Email us at [email protected]on.com and we'll get you all set up!
I'm having trouble viewing the videos. What should I do?

There are three things that normally are the culprit. Try these first:
Try a different internet browser. Internet Explorer is often unstable with course videos. We recommend Chrome or Firefox.
Enable cookies on your computer or device.
Clear your browser cache or history.
Be aware that the videos were recorded in HD and will require a longer loading time due to the higher quality of the video.
If you are still having trouble, please email [email protected] with a description of the problem and we will work on resolving the issue.
Can I share my work from the class on social media?

I'd love for you to share the painting that you've done during the course, I do ask though that you give credit to the learning source by tagging me @laynejohnsonstudio.
Can I share the course material?
A lot of time, expense, thought and care went into creating all the material for these courses and sharing any of its copyrighted course content online or elsewhere is prohibited.
The course material is intended only for those individuals who have enrolled and paid for the courses in the school. Thanks for understanding!
Can the painting I do in this course be sold or exhibited?
Competitions generally prohibit submitting paintings completed as part of a workshop or class. The copyrighted paintings featured in each of the courses is for learning purposes only. The inspiration and design for the painting is the creative property of Layne Johnson.
Take what you learn from the class and create a new painting that's unique and all your own!
Do you have a refund policy on your courses?
Yes, if you are unsatisfied with your purchase, contact us in the first 30 days and we'll give you a full refund.

How do I contact you?
If you need help with something not included here, please email [email protected] with a description of the problem and we will work on resolving the issue as quickly as possible during the business week.